MX-M654N / M754N
Meet All Your Document
Needs with One Flexible and
Productive Solution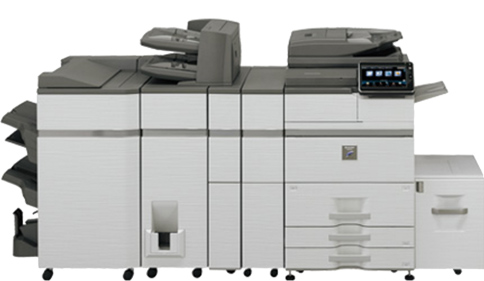 The high-performing MX-M654N/M754N boasts everything needed to bring exceptional document workflow, brilliant image quality, and intuitive ease of use to even the busiest workplace. Built for reliable, energy-efficient operation, this versatile solution also offers meet-your-needs expandability. In fact, the MX-M654N/M754N partners easily with a range of convenient finishing and feature options in flexible document system configurations that can boost efficiency and grow in sync with your business. There's simply no better solution for streamlining business.
PRODUCTIVITY
Finishers
With a maximum output capacity of 4,250 sheets, handy finishers provide three stapling positions—front corner, rear corner, and two-point side—for up to 50 sheets (MX-FN19/FN20) or 100 sheets (MX-FN21/FN22) per set. Two-to-four-hole punching is available as an option.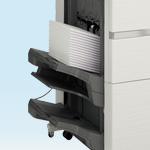 Saddle Stitch Finishers
In addition to conventional stapling, the MX-FN20/FN22 Saddle Stitch Finishers can staple and fold sets of documents—up to 15 sheets for MX-FN20 and up to 20 sheets for MX-FN22—to make professional-looking booklets.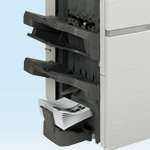 Folding Unit
The MX-FD10 Folding Unit automates five types of folding—z-fold, c-fold, accordion fold, double fold, and half-fold for efficient production of direct mail, brochures, and more.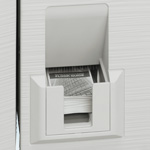 Inserter
For truly professional results, the MX-CF11 Inserter can add pre-printed covers and insert paper up to 220 g/m2 to documents before final finishing. Two input trays, each with a capacity of 200 sheets, make it possible to feed in two different types of paper.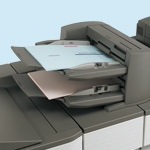 USABILITY
10.1-Inch Color LCD Touchscreen
A user-friendly touchscreen interface enables intuitive MFP operation. Document finishes and page layout can be confirmed onscreen before printing out to prevent erroneous printouts and paper waste. And documents can be previewed in various modes to match the task at hand.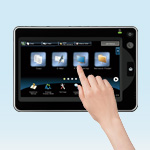 ECO FRIENDLINESS
Energy Efficiency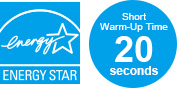 Conforming to the ENERGY STAR® programme, an international system identifying energy-efficient products, the MX-M654N/M754N boasts state-of-the-art environmental technologies and a range of eco functions. A short warm-up time is just one of the pluses making this MFP a real energy saver.
Key Features
High Productivity
Exceptional Reliability
Enhanced Usability
Superb Image Quality
Advanced Functionality
Multi-Layered Security Solutions
Environmentally Advanced Design
General
Type
Console
Engine speed
A4 (8 1/2″ x 11″)*1
Max. 75/65 ppm
A3 (11″ x 17″)
Max. 37/34 ppm
Control panel display
10.1-inch color LCD touchscreen
Paper size
Max. A3 wide (12″ x 18″) , min. A5 (5 1/2″ x 8 1/2″)*2
Paper capacity (80 g/m2)
Standard
3,200 sheets

(2,100-sheet tray, 500-sheet tray x 2, and 100-sheet multi-bypass tray)

Maximum
6,700 sheets

(3,200 sheets & optional 3,500-sheet tray)

Paper weight*3
Tray 1&2
60 g/m2 to 105 g/m2 (16 lbs bond to 28 lbs bond)
Tray 3&4
60 g/m2 to 220 g/m2 (16 lbs bond to 80 lbs cover)
Multi-bypass tray
55 g/m2 to 300 g/m2 (13 lbs bond to 110 lbs cover)
Large capacity tray (MX-LC15, MX-LC16)
60 g/m2 to 220 g/m2 (16 lbs bond to 80 lbs cover)
Warm-up time*4
20 sec.
Memory
Standard
3GB (copy/print shared)    320GB HDD*5
Option
1GB
Power requirements
Rated local AC voltage ±10%, 50/60 Hz
Power consumption
Max. 1.84 kW (220 to 240V), max. 1.92 kW (110 to 127V)
Dimensions (W x D x H)*6
663 x 772 x 1,218 mm (26 1/16″ x 30 23/64″ x 47 61/64″)
Weight (approx.)
166 kg (365.9 lbs)
Copier
Original paper size
Max. A3 (11″ x 17″)
First copy time*7
3.5/3.9 sec.
Continuous copy
Max. 9,999 copies
Resolution
Scan
600 x 600 dpi, 600 x 400 dpi, 600 x 300 dpi*8
Print
1,200 x 1,200 dpi, 600 x 600 dpi, 9,600 (equivalent) x 600 dpi
Gradation
Scan
256 levels
Print
256 levels (equivalent)
Zoom range
25% to 400% (25% to 200% using DSPF) in 1% increments
Preset copy ratios
Metric: 10 ratios (5R/5E), inch: 8 ratios (4R/4E)
Network color Scanner
Scan method
Push scan (via control panel), pull scan (TWAIN-compliant application)
Scan speed*9
color & B/W
One-sided: Max. 100 originals/min.

Two-sided: Max. 200 originals/min.

Resolution
Push scan
100, 150, 200, 300, 400, 600 dpi
Pull scan
75, 100, 150, 200, 300, 400, 600 dpi

50 to 9,600 dpi via user setting

File formats
TIFF, PDF, PDF/A, encrypted PDF, compact PDF, JPEG*10, XPS
Scanner utility
Sharpdesk
Scan destinations
Scan to e-mail/desktop/FTP server/network folder (SMB)/USB memory
Document Filing
Document filing capacity*11
Main and custom folders: 20,000 pages or 3,000 files
Quick file folder: 10,000 pages or 1,000 files
Stored jobs*12
Copy, print, scan, fax
Storage folders
Quick file folder, main folder, custom folder (max. 1,000 folders)
Confidential storage
Password protection
Network Printer
Resolution
1,200 x 1,200 dpi, 600 x 600 dpi, 9,600 (equivalent) x 600 dpi
Interface
USB 2.0, 10Base-T/100Base-TX/1000Base-T
Supported OS
Windows Server® 2003, Windows Server® 2003 R2, Windows Server® 2008, Windows Server® 2008 R2, Windows Server® 2012, Windows Server® 2012 R2, Windows Vista®, Windows® 7, Windows® 8, Windows® 8.1, Mac OS X 10.4, 10.5, 10.6, 10.7, 10.8, 10.9, 10.10
Network protocols
TCP/IP (IPv4, IPv6), IPX/SPX (NetWare), EtherTalk (AppleTalk)
Printing protocols*13
LPR, Raw TCP (port 9100), POP3 (e-mail printing), HTTP, FTP for downloading print files, EtherTalk printing, IPP
PDL
Standard
PCL 6 emulation, Adobe® PostScript® 3™
Option
XPS*14
Available fonts
80 fonts for PCL, 139 fonts for Adobe PostScript 3
Facsimile (optional MX-FX11 required)
| | |
| --- | --- |
| Compression method | MH/MR/MMR/JBIG |
| Communication protocol | Super G3/G3 |
| Transmission time | Less than 3 seconds*15 |
| Modem speed | 33,600 bps to 2,400 bps with automatic fallback |
| Transmission resolution | From Standard (203.2 x 97.8 dpi) to Ultra Fine (406.4 x 391 dpi) |
| Recording size | A3 to A5 (11″ x 17″ to 5 1/2″ x 8 1/2″) |
| Memory | 1GB |
| Greyscale levels | Equivalent to 256 levels |