MX-M364N / M464N / M564N
Expandable Solution with
Outstanding Eco Performance—
Your Ideal Partner in Growth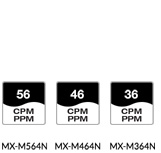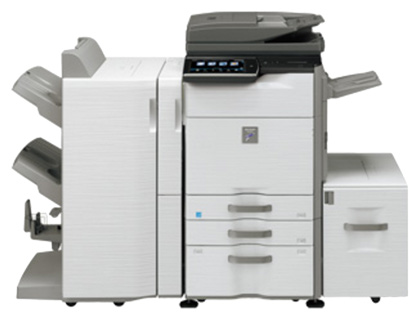 Any business in need of an energy-efficient partner that can keep pace with changing document demands should look no further than the configure-friendly MX-M364N/M464N/M564N.
Along with multifunction efficiency—including full-color network scanning—this B/W A3 solution offers advanced environmental performance and easy expandability. Flexible system configurations allow the MX-M364N/M464N/M564N to accommodate nearly any type of business. There's a space-efficient inner finisher for workplaces with limited room, a 4,000-sheet finisher for offices handling high-volume jobs, and saddle stitch finishers for businesses requiring complex document finishing, like that needed for pamphlet making.
The MX-M364N/M464N/M564N also supports the Sharpdesk Mobile print/scan application for conducting business on the go and ensures the reliable safeguarding of business communications through built-in and add-on security functions.
Productive Performance
Leading the way to document productivity is a 150-sheet high-speed DSPF (duplex single pass feeder) that gives the MX-M364N/M464N/M564N quick scanning speeds of up to 85 opm* for one-sided originals and 170 opm* for two-sided originals—in both color and B/W. For added convenience, an optional 500 + 2,000-sheet paper drawer increases the MX-M364N/M464N/M564N's total paper capacity to 6,600 sheets. And a variety of finishing options, including a 4,000-sheet A3 saddle stitch finisher, makes for attractive and efficient document finishing.

Ease of Use
The MX-M364N/M464N/M564N is equipped with a 7.0-inch WVGA touchscreen color LCD that provides easy navigation of MFP functions and settings. The LCD also shows thumbnail displays and data file previews, raising the bar on user friendliness. A retractable QWERTY keyboard option offers added convenience.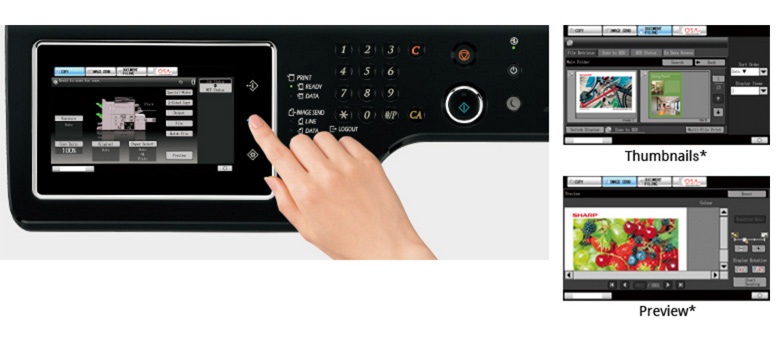 Key Features
Eco Friendliness
Highly Productive Operation
Enhanced Usability
Advanced Functionality
Multi-Layered Security Solutions
Environmentally Advanced Design
General
Type
Desktop
Engine speed
A4 (8 1/2″ x 11″)*1: Max. 56/46/36 ppm*2

A3 (11″ x 17″): Max. 26/22/17 ppm

Control panel display
10.1-inch color LCD touchscreen
Paper size
Max. A3 wide (12″ x 18″)*3, min. A5 (5 1/2″ x 8 1/2″)*4
Paper capacity

(80 g/m2)

Standard
600 sheets

(500-sheet tray and 100-sheet multi-bypass tray)

Maximum
6,600 sheets

(600 sheets & optional 500 + 2,000-sheet tray and 3,500-sheet tray)

Paper weight*5
Tray
60 g/m2 to 220 g/m2 (16 lbs bond to 80 lbs cover)
Multi-bypass tray
55 g/m2 to 300 g/m2 (13 lbs bond to 110 lbs cover)
Warm-up time*6
12 sec.
Memory
Standard
3GB (copy/print shared)    320GB HDD*7
Option
1GB
Power requirements
Rated local AC voltage ±10%, 50/60 Hz
Power consumption
Max. 1.84 kW (220 to 240V), max. 1.44 kW (100 to 127V)
Dimensions (W x D x H)
618 x 713 x 843 mm (24 21/64″ x 28 5/64″ x 33 3/16″)
Weight (approx.)
MX-M565N/M465N: 78 kg (171.9 lbs)

MX-M365N: 77 kg (169.8 lbs)
Copier
Original paper size
Max. A3 (11″ x 17″)
First copy time*8
3.7/3.9/4.5 sec.
Continuous copy
Max. 999 copies
Resolution
Scan
600 x 600 dpi, 600 x 400 dpi, 600 x 300 dpi
Print
1,200 x 1,200 dpi, 600 x 600 dpi, 9,600 (equivalent) x 600 dpi
Gradation
Scan
256 levels
Print
256 levels (equivalent)
Zoom range
25% to 400% (25% to 200% using DSPF) in 1% increments
Preset copy ratios
Metric: 10 ratios (5R/5E), inch: 8 ratios (4R/4E)
Network color Scanner
Scan method
Push scan (via control panel), pull scan (TWAIN-compliant application)
Scan speed*9
color & B/W
One-sided: Max. 85 originals/min.

Two-sided: Max. 170 originals/min.

Resolution
Push scan
100, 150, 200, 300, 400, 600 dpi
Pull scan
75, 100, 150, 200, 300, 400, 600 dpi

50 to 9,600 dpi via user setting

File formats
TIFF, PDF, PDF/A, encrypted PDF, compact PDF*10, JPEG*11, XPS
Scanner utility
Sharpdesk
Scan destinations
Scan to e-mail/desktop/FTP server/network folder (SMB)/USB memory
Document Filing
Document filing capacity*12
Main and custom folders: 20,000 pages or 3,000 files
Quick file folder: 10,000 pages or 1,000 files
Stored jobs*13
Copy, print, scan, fax
Storage folders
Quick file folder, main folder, custom folder (max. 1,000 folders)
Confidential storage
Password protection
Network Printer
Resolution
1,200 x 1,200 dpi, 600 x 600 dpi, 9,600 (equivalent) x 600 dpi
Interface
USB 2.0, 10Base-T/100Base-TX/1000Base-T
Supported OS
Windows Server® 2003, Windows Server® 2003 R2, Windows Server® 2008, Windows Server® 2008 R2, Windows Server® 2012, Windows Server® 2012 R2, Windows Vista®, Windows® 7, Windows® 8, Windows® 8.1, Mac OS X 10.4, 10.5, 10.6, 10.7, 10.8, 10.9, 10.10
Network protocols
TCP/IP (IPv4, IPv6), IPX/SPX (NetWare), EtherTalk (AppleTalk)
Printing protocols*14
LPR, Raw TCP (port 9100), POP3 (e-mail printing), HTTP, FTP for downloading print files, EtherTalk printing, IPP
PDL
Standard
PCL 6 emulation, Adobe® PostScript® 3™
Option
XPS*15
Available fonts
80 fonts for PCL, 139 fonts for Adobe PostScript 3
Facsimile (optional MX-FX11 required)
| | |
| --- | --- |
| Compression method | MH/MR/MMR/JBIG |
| Communication protocol | Super G3/G3 |
| Transmission time | Less than 3 seconds*16 |
| Modem speed | 33,600 bps to 2,400 bps with automatic fallback |
| Transmission resolution | From Standard (203.2 x 97.8 dpi) to Ultra Fine (406.4 x 391 dpi) |
| Recording size | A3 to A5 (11″ x 17″ to 5 1/2″ x 8 1/2″) |
| Memory | 1GB |
| Greyscale levels | Equivalent to 256 levels |