MX-C301W
Small but Mighty—A4 Color MFP
Boasts A3 MFP Performance
and Handy Wireless Connectivity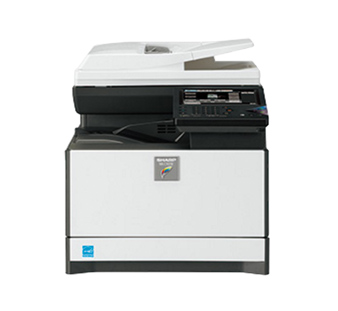 Despite its stylishly streamlined appearance, the MX-C301W is an A4 powerhouse of functionality. Built for quality performance and four-in-one efficiency, the MX-C301W is packed with the same advanced features usually reserved for larger A3 MFPs. That's what makes it the ideal workflow enhancer for businesses of any type and size. In fact, this versatile solution works equally well in large offices as part of a network of A3/A4 MFPs and in smaller offices as the solo document performer.

Built-In Wireless Connections
The MX-C301W offers ultra-handy wireless access via two easy modes: infrastructure mode and access point mode. These two modes enable the MFP to accommodate various user-environment factors, such as installation location and the type of LAN available.

Infrastructure mode wirelessly connects the MFP to notebook PCs and other mobile devices via a commercially available wireless LAN router. This ensures convenient access to the MFP even from places where wired LAN is not available.

Access point mode wirelessly connects a LAN-wired MFP to notebook PCs and other mobile devices without going through a wireless LAN router. The MFP can be accessed via both a wired connection and a wireless connection.
Note: External networks cannot be accessed via the MFP. Up to five mobile devices can be wirelessly connected to the MFP at the same time.
Key Features
Sharpdesk Mobile
User-Friendly Design
Easy, High-Quality Copying
Superb Image Quality
Highly Productive Operation
Enhanced Usability
Advanced Functionality
Multi-Layered Security Solutions
Environmentally Advanced Design
General
Type
Desktop
Engine speed
A4 (8 1/2″ x 11″)*1: Max. 30 ppm
Control panel display
7.0-inch color LCD touchscreen
Paper size
Max. A4 (8 1/2″ x 14″), min. A6 (5 1/2″ x 8 1/2″)
Paper capacity

(80 g/m2)

Standard
300 sheets

(250-sheet tray and 50-sheet multi-bypass tray)

Maximum
800 sheets

(300 sheets & optional 500-sheet tray)

Paper weight
Tray
60 g/m2 to 105 g/m2 (16 lbs bond to 28 lbs bond)
Multi-bypass tray
55 g/m2 to 220 g/m2 (13 lbs bond to 80 lbs cover)
Warm-up time*2
18 sec.
Memory
Standard
3GB (copy/print shared)    250GB HDD*3
Option
2GB
Power requirements
Rated local AC voltage ±10%, 50/60 Hz
Power consumption
Max. 1.3 kW (220 to 240V), max. 1.25 kW (100 to 127V)
Dimensions (W x D x H)
429 x 569 x 474 mm (16 57/64″ x 22 13/32″ x 18 21/32″)
Weight (approx.)
33 kg (72.8 lbs)
Copier
Original paper size
Max. A4 (8 1/2″ x 14″)
First copy time*4
Full color: 7.4 sec.    B/W: 6.3 sec.
Continuous copy
Max. 999 copies
Resolution
Scan*5
600 x 600 dpi, 600 x 300 dpi
Print
600 x 600 dpi, 9,600 (equivalent) x 600 dpi
Gradation
Equivalent to 256 levels
Zoom range
25% to 400% (25% to 200% using RSPF) in 1% increments
Preset copy ratios
Metric: 8 ratios (4R/4E), inch: 5 ratios (3R/2E)
Document Filing
Document filing capacity*6
Main and custom folders
20,000 pages or 3,000 files
Quick file folder
10,000 pages or 1,000 files
Stored jobs
Copy, print, scan, fax transmission
Storage folders
Quick file folder, main folder, custom folder (max. 1,000 folders)
Confidential storage
Password protection
Network Printer
Resolution
600 x 600 dpi, 9,600 (equivalent) x 600 dpi
Interface
USB 2.0, 10Base-T/100Base-TX/1000Base-T
Supported OS
Windows Server® 2003, Windows Server® 2003 R2, Windows Server® 2008, Windows Server® 2008 R2, Windows Server® 2012, Windows Server® 2012 R2, Windows Vista®, Windows® 7, Windows® 8, Windows® 8.1, Mac OS X10.4, 10.5, 10.6, 10.7, 10.8, 10.9, 10.10
Network protocols
TCP/IP (IPv4, IPv6), IPX/SPX, EtherTalk (AppleTalk)
Printing protocols*7
LPR, Raw TCP (port 9100), POP3 (e-mail printing), HTTP, IPP, FTP for downloading print files, EtherTalk printing
PDL
Standard
PCL 6 emulation, PostScript® 3™ emulation
Option
XPS*8
Available fonts
80 fonts for PCL, 136 fonts for PostScript 3 emulation
Network Scanner
Scan method
Push scan (via control panel), pull scan (TWAIN-compliant application)
Scan speed*9
color & B/W
Max. 35 originals/min.
Resolution
Push scan
100, 200, 300, 400, 600 dpi
Pull scan
75, 100, 150, 200, 300, 400, 600 dpi

50 to 9,600 dpi via user setting

File formats
TIFF, PDF, PDF/A, encrypted PDF, JPEG*10, XPS
Scanner utility
Sharpdesk
Scan destinations
Scan to e-mail/desktop/FTP server/network folder (SMB)/USB memory
Facsimile
| | |
| --- | --- |
| Compression method | MH/MR/MMR/JBIG |
| Communication protocol | Super G3/G3 |
| Transmission time | Less than 3 seconds*11 |
| Modem speed | 33,600 bps to 2,400 bps with automatic fallback |
| Transmission resolution | From Standard (203.2 x 97.8 dpi) to Ultra Fine (406.4 x 391 dpi) |
| Recording size | A4 to A5 (8 1/2″ x 11″ to 5 1/2″ x 8 1/2″) |
| Memory | 1GB |
| Greyscale levels | Equivalent to 256 levels |