MX-5050N / 6050N
MX-3050N / 3550N / 4050N
Fast and Fuss-Free MFPs to
Streamline Your Business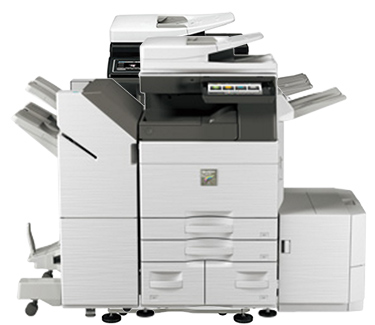 Next-Generation Color MFPs for Simply Better Business
Sharp's next-generation full-color MX-3050N / 3550N / 4050N / 5050N /6050N MFPs are packed with state-of-the-art technologies that add new value to your workflow. Thanks to the user-friendly design of these MFPs—including a new Easy UI mode—a wide variety of users can access their advanced functions easily and intuitively. Adding one of these high performers to your talent pool is a great way to make your business grow.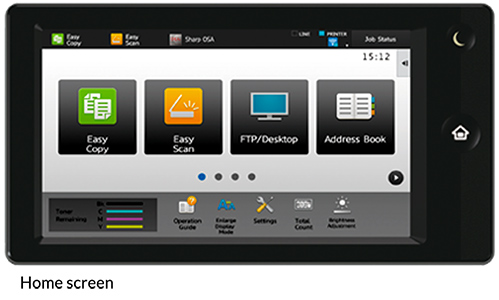 Transform the way you use information in your business by connecting one of these new MFPs to a variety of mobile devices and cloud services. Now you don't have to be confined to the office—you and your team can work anytime, anywhere. The amazing flexibility of these Sharp MFPs can help you grab new business opportunities and boost your bottom line.
Link to Public Cloud and Mobile Printing Services
These MFPs enable single sign-on for easy access to public cloud services*1 such as Google Drive™, OneDrive® for Business, and SharePoint® Online. They also support mobile printing services such as Google Cloud Print™, AirPrint, Mopria™, and Sharp Print Service Plugin*2.
*1: Requires optional MX-AMX2.
*2: Requires optional MX-PK13.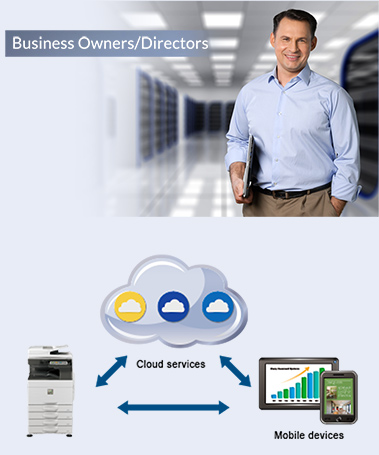 Fast Wake Up from Sleep Mode
Placing a document in the RSPF or touching the LCD control panel wakes the MFP up in just one second*.
* When in Fast Wake Up mode.
Integrated Device Management
From a single location, you can use Sharp Remote Device Manager* (SRDM) to manage multiple Sharp MFPs. This includes everything from system setup, user access, and security settings to troubleshooting and maintenance.
* Contact a Sharp customer representative for availability and other details.
Superb Image Quality
Auto process control and developer refresh system ensure consistently high image quality over a long period of time
PCL6 (standard-equipped) and Adobe® PostScript® 3™ (option)
Sharp's proprietary Auto Color Mode, further improved for enhanced scan and copy performance
Productive Operation
Print Release function lets users send documents to main MFP, which acts as a server and stores them for printout from any networked MFP
Direct printing of Microsoft® Office files (pptx, xlsx, docx)*1
Thumbnail display of files enables easy direct printing*2 from USB drives
Most of the MFP's paper trays accommodate a wide variety of paper sizes up to SRA3 and weights up to 300 g/m2
Efficient, speedy RSPF scans documents at 80 opm*3 (one-sided)
Multicrop function automatically converts multiple documents scanned at the same time into separate files
Supports compact PDF (option)
Wide variety of finishing options, including saddle stitch finishing, manual stapling, and stapleless stapling
Empty toner cartridges can be replaced without interrupting a copy/print job (MX-5050N/6050N)
Advanced Expandability
Sharp OSA (Open Systems Architecture)*4 allows integration with network and cloud-based applications
Sharpdesk Mobile print/scan application connects the MFP to mobile devices via wireless LAN*5
Sends scanned data via Gmail™ or Microsoft® Exchange accounts
Multi-Layered Security
Supports S/MIME for secure e-mail communications*6
Advanced data protection and access control
Enhanced Usability
Easy UI mode on 10.1-inch color LCD touchscreen brings smooth and intuitive MFP operation
Control panel tilts at various angles for easy access
Red and green LED lamps light up to notify users of machine/job status
Lock-on handle ensures paper drawer is closed properly
Accessibility-based design complies with US Section 508 and EU Mandate 376
Environmentally Advanced Design
Low TEC value
New low-melting-point Mycrostoner-Crystal helps reduce MFP's energy consumption
New quick-heating belt fusing system ensures short warm-up time
Automatic toner cartridge eject function ensures all toner has been consumed, thereby saving resources
*1: Requires optional MX-PU10. This function is enabled via DirectOffice™ technology.
*2: Direct printing of PDF files requires optional MX-PK13; direct printing of Microsoft Office files (pptx, xlsx, docx) requires optional MX-PU10.
*3: Originals per minute; when feeding A4 (8 1/2″ x 11″) sheets.
*4: Requires optional MX-AMX2 and/or MX-AMX3.
*5: Availability varies by country/region.
*6: When sending e-mail only.
General
Model
MX-6050N/5050N
MX-4050N/3550N/3050N
Type
Desktop
Engine speed
A4 (8 1/2″ x 11″)*1: Max. 60/50 ppm

A3 (11″ x 17″): Max. 30/26 ppm

SRA3: Max. 29/24 ppm

A4 (8 1/2″ x 11″)*1: Max. 40/35/30 ppm

A3 (11″ x 17″): Max. 20 (19)/18/16 ppm

SRA3: Max. 18/16/15 ppm

Control panel display
10.1-inch color LCD touchscreen
Paper size
Max. SRA3 (12″ x 18″), min. A5 (5 1/2″ x 8 1/2″*2)
Paper capacity

(80 g/m2)

Standard
650 sheets

(550-sheet tray and 100-sheet multi-bypass tray)

Maximum
6,300 sheets

(650 sheets & optional 550 + 2,100-sheet tray and 3,000-sheet tray)

Paper weight
Tray
60 g/m2 to 300 g/m2 (16 lbs bond to 110 lbs cover)
Multi-bypass tray
55 g/m2 to 300 g/m2 (13 lbs bond to 110 lbs cover)
Warm-up time*3
15 sec.
10 sec.
Memory
5GB (copy/print shared)    250GB HDD*4
Power requirements
Rated local AC voltage ±10%, 50/60 Hz
Power consumption
Max. 2.07 kW (220 to 240V), max. 1.92 kW (110 to 127V)
Max. 1.84 kW (220 to 240V), max. 1.44 kW (110 to 127V)
Dimensions (W x D x H)*5
608 x 650 x 834 mm (23 15/16″ x 25 19/32″ x 32 27/32″)
Weight (approx.)
82 kg (180.8 lbs)
79 kg (174.2 lbs)
Copier
Model
MX-6050N/5050N
MX-4050N/3550N/3050N
Original paper size
Max. A3 (11″ x 17″)
First copy time*6
Full color: 4.8 sec.    B/W: 3.7 sec.
Full color: 6.7 sec.    B/W: 4.7 sec.
Continuous copy
Max. 9,999 copies
Resolution
Scan (color)
600 x 600 dpi
Scan (B/W)
600 x 600 dpi, 600 x 400 dpi
600 x 600 dpi, 600 x 400 dpi, 600 x 300 dpi
Print (color)
600 x 600 dpi, 9,600 (equivalent) x 600 dpi (depending on copy mode)
Print (B/W)
1,200 x 1,200 dpi, 600 x 600 dpi, 9,600 (equivalent) x 600 dpi (depending on copy mode)
600 x 600 dpi, 9,600 (equivalent) x 600 dpi (depending on copy mode)
Gradation
Equivalent to 256 levels
Zoom range
25 to 400% (25 to 200% using RSPF) in 1% increments
Preset copy ratios
Metric: 10 ratios (5R/5E), inch: 8 ratios (4R/4E)
Network Scanner
Model
MX-6050N/5050N
MX-4050N/3550N/3050N
Scan method
Push scan (via control panel), pull scan (TWAIN-compliant application)
Scan speed*7
color & B/W
Max. 80 originals/min.
Resolution
Push scan
100, 150, 200, 300, 400, 600 dpi
Pull scan
75, 100, 150, 200, 300, 400, 600 dpi

50 to 9,600 dpi via user setting

File formats
TIFF, PDF, PDF/A, encrypted PDF, compact PDF*8 *9, JPEG*9, XPS
Scanner utility
Sharpdesk
Scan destinations
Scan to e-mail/desktop/FTP server/network folder (SMB)/USB drive/HDD
Document Filing
Model
MX-6050N/5050N
MX-4050N/3550N/3050N
Document filing capacity*10
Main and custom folders: 20,000 pages or 3,000 files
Quick file folder: 10,000 pages or 1,000 files
Stored jobs*11
Copy, print, scan, fax
Storage folders
Quick file folder, main folder, custom folder (max. 1,000 folders)
Network Printer
Model
MX-6050N/5050N
MX-4050N/3550N/3050N
Resolution
1,200 x 1,200 dpi, 600 x 600 dpi, 9,600 (equivalent) x 600 dpi
600 x 600 dpi, 9,600 (equivalent) x 600 dpi
Interface
USB 2.0 (host, high-speed), 10Base-T/100Base-TX/1000Base-T
Supported OS
Windows Server® 2008, Windows Server® 2008 R2, Windows Server® 2012, Windows Server® 2012 R2, Windows Vista®, Windows® 7, Windows® 8.1, Windows® 10, Mac OS X 10.4, 10.5, 10.6, 10.7, 10.8, 10.9, 10.10, 10.11
Network protocols
TCP/IP
Printing protocols
LPR, Raw TCP (port 9100), POP3 (e-mail printing), HTTP, FTP for downloading print files, IPP, SMB, WSD
PDL
Standard
PCL 6 emulation
Option
Adobe® PostScript® 3™
Available fonts
80 fonts for PCL, 139 fonts for Adobe PostScript 3
B/W Facsimile (optional MX-FX15 required)
Model
MX-6050N/5050N
MX-4050N/3550N/3050N
Compression method
MH/MR/MMR/JBIG
Communication protocol
Super G3/G3
Transmission time
Less than 3 seconds*12
Modem speed
33,600 bps to 2,400 bps with automatic fallback
Transmission resolution
From Standard (203.2 x 97.8 dpi) to Ultra Fine (406.4 x 391 dpi)
Recording size
A3 to A5 (11″ x 17″ to 5 1/2″ x 8 1/2″)
Memory
1GB (built-in)
Greyscale levels
Equivalent to 256 levels